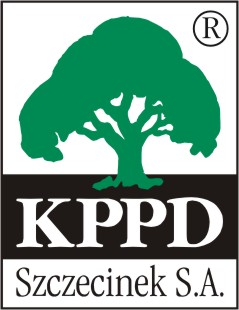 KPPD-Szczecinek S.A.
ul. Waryńskiego 2
78-400 Szczecinek
Telefon: +48 94 37 49 700
Fax: +48 94 37 49 780
E-mail: kppd@kppd.pl
www.kppd.pl
A leading producer of sawn timber in Poland
70 years of experience in wood processing
KPPD-Szczecinek S.A. with its headquarter in Szczecinek
KPPD-Szczecinek S.A. is one of the largest timber producers in Poland. The enterprise produces annually 266,000 m3 of pine timber in 8 softwood sawmills and 30,000 m3 of beech and oak timber in 2 hardwood sawmills.
The company invests in modern technologies to meet customers' requirements. Each sawmill has drying chambers (with a single feed of approx. 7000 m3), and five softwood sawmills have autoclaves for pressure impregnation of timber with a modern chrome-free impregnant – Wolmanit CX-10 (green and brown).
Many years of experience, high level of technical equipment and professional staff guarantee high quality of products and on-time deliveries. The company processes FSC-certified timber and is authorized to issue a CE certificate for construction timber and an IPPC certificate.
In 2002, the quality management system ISO 9001: 2015 was introduced.