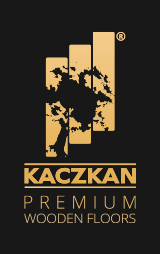 KACZKAN Zakład Produkcji Drzewnej Józef Kaczkan Sp. Jawna
Klonowy Dwór
14-330 Małdyty
Telefon +48 89 7581900
fax + 48 89 7585051
e-mail: kaczkan@kaczkan.pl
www.kaczkan.pl
Zakład Produkcji Drzewnej "KACZKAN" has existed since 1987. It is a family business, managed by President Józef Waldemar Kaczkan. The company "KACZKAN" is an enterprise operating in the wood industry. The company's line of business is production and trade on domestic and export market.
The company "KACZKAN" is a producer of high-class wooden floors: two-layer parquet, floor board, solid parquet, mosaic parquet and industrial parquet.
The production of our floors is complex, the first part of the production process is the processing of the raw material: wood in the sawmill in Kiełkuty, then semi-finished products in the form of parquet friezes are sent to the production plant in Klonowy Dwór, where natural wooden floors are made.
Innovative technological lines make our products precise in design and execution. Our offer includes types of floors, from traditional to modern.
Production profile:
– floor materials production