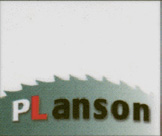 P.H.U. "PLANSON" Barbara Hołówka
Biadaszka 3A
56-330 Cieszków
Telefon/fax: +48 71 3849402
E-mail: biuro@planson.pl
Production profile:
– sawn timber and products from softwood
– sawn timber and products from hardwood
The PLANSON sawmill is located in the village of Biadaszka, in the Milicz poviat, the Cieszków commune, 1 km from the road no. 15 (Milicz-Krotoszyn). The company was founded in 1994 and currently employs over 40 people. Our sawmill produces a wide range of hardwood and softwood elements. However, we specialize in sawing Oak wood. The sawmill in Biadaszka processes about 15.000 m3 of roundwood annually. Most of the production is exported to countries all over Europe such as Germany, the Netherlands, Spain, Sweden, Austria and Finland. During these years of work on the European market, PLANSON has proved to be a reliable, solid and timely partner, which prove long-term contracts with customers. In a wide range of products you will find the highest quality wooden elements, made with passion and respect for nature.