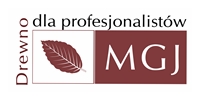 MGJ Sp. z o.o.
ul. Ofiar Piaśnicy 30
84-106 Leśniewo
tel: +48 58-673-59-00
e-mail: mgj@mgj.pl
Contact person:
Małgorzata Wejer-Kudełko
malgorzata.wejer-kudelko@mgj.pl
Phone number: +48 692-421-988
MGJ is a family business, that has been continuously operating on the market since 1995. In Poland, we are a leader in the production of deciduous sawn timber in the thicknesses of 26-70 mm from the following species: Beech, Oak, Ash, Birch, Maple and Alder. For our clients we offer kiln dried and steamed timber.
We approach the production of sawn timber with the utmost care, from obtaining the raw material, through sawing up to the drying process. Our pride is a modern machinery park, which includes 4 saws and 24 drying chambers, which allows us to saw 50.000 m3. The high quality of sawn timber, combined with comprehensive customer service, resulted in appreciation in the business community.
The MGJ company focuses on quality, which is confirmed by trust and recognition among a wide range of customers. Our strengths are professionalism, commitment, comprehensive service and high standards of the production process. Thanks to the efficient organization of production, sales and transport, we deliver our products on time and to any place.
Production profile:
–  lumber and products from hardwood